Experts at Lita Dirks Design offer top tips to attract new home buyers next year.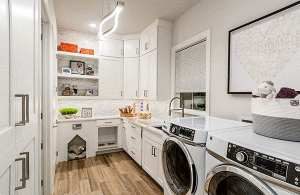 Design trends are evolving at an ever-quickening pace thanks to design-oriented television and social media, and 2018 promises to bring even more excitement and innovation to the interior design scene. Here are some of my top picks:
Mixed Materials
Be prepared to see a vast assortment of mixed metals, integrated color combinations, the use of lush textures and continued personalization to transform a house to a completely personalized home.
A popular trend you'll see in 2018 is the mixing of different materials in lamps, statement lighting, and accessories. Additionally, for a zen-like state of living taken from the Dutch, Hygge (pronounced "hue-guh") is becoming very popular. This lifestyle design embraces clean, soft lines to create comfortable surroundings, helping buyers escape from the hectic, outside world.
Cozy textures such as knit cushions, faux throws, fluffy woolen rugs, worn wood and natural stone help homeowners take pleasure in their space and relax in a peaceful atmosphere. In addition to the more comfortable approach, pretty patterns are also making their mark. Soft lines, botanical prints and airy colors are becoming more favorable today than the geometric prints and strong patterns of yesterday.
And, finally, elements of global fusion are continuing to gain ground. Tribal, Asian, and artisan influences will be especially prevalent in 2018. Splashes of international wares add personality and flair.
Spaces That Sizzle
With millennials and boomers alike, we're finding that experiences are driving space planning and design more than ever. As an example, with entertaining friends and family so important to these buyers, beverage bars, wine centers, and functional kitchen islands are more essential than ever. Also, designated tech-free spaces, disappearing appliances and thoughtfully designed storage spaces will be moving up the buyer's wish list.
A Mix of Materials
Materials will make a bold statement in 2018 as we see an influx of backsplashes offered in graphic shapes, as well as iridescent, metallic and pearlized finishes. In terms of flooring, bigger is better. Large format wood (or wood-look) planks and tile help create an expansive and impressive space and assist in the ease of maintenance. Taking center stage in furnishings and accessories are deep and lush textures. Mixing velvets with fringe, fur or kilim bring warmth and personality to any space.
Colors Continue to Change
Depending on the style preferences of your buyers, these color combinations will speak to an array of personalities. Warm neutrals, including taupe-tinted grays, are becoming increasingly popular for those who see home as a calming escape. For the dramatic buyer who prefers statements, deep exotic hues are on trend in 2018. Covering a wall in a deep purple, hunter green or rich navy tone creates an enticing and rich atmosphere that is sure to impress.
If your buyer is looking to add energy to their space, bright and vivid color pallets are also completely on trend. Luminous hues such a "Millennial Pink" and "Gen-Z Yellow" are timeless but also very "now" as buyers embrace our visual culture more than ever.
Black is Back
Lastly, black is back, big time. A modernized black is the most daring and fearless color trend of 2018. With PPG paints naming "Black Flame" as their color of the year, and Glidden Paints naming "Deep Onyx," black is a timeless staple that delivers a high level of sophistication to any space. Buyers wanting to make their space look expensive and sexy can turn to black to attain this objective.
Completing a space that your buyers feel comfortable in and love is the end goal now and in the future! When used thoughtfully, these trends can certainly help stimulate your buyer and help them visualize their new dream home. Therefore, keeping apprised of trends shows buyers that you are aware of what's important to them, ultimately resulting in a very happy buyer.
Original article found at: http://www.builderonline.com/design/consumer-trends/new-design-trends-to-captivate-buyers-in-2018_o