Here's what to do in your red, white and blue
The first week of July, the city throws off its sedate, summer pace and starts to move to the beat of Essence Fest and beyond. Spend Independence Day with good food, history, live music and more with our recommendations below.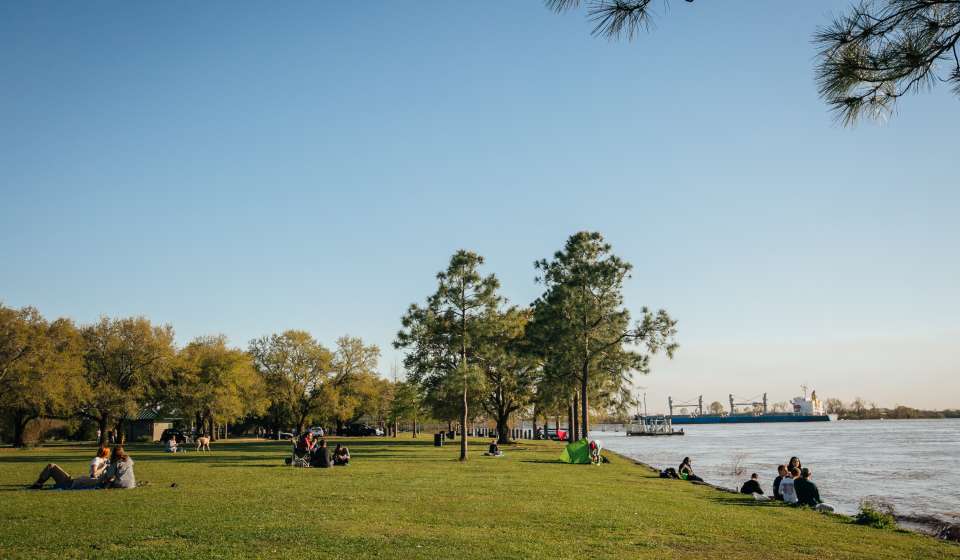 Rebecca ToddPicnicing at The Fly
Picnics
New Orleans parks are the perfect spot for barbeques and picnics with friends and family. For larger groups, pavilion rentals are available with water and electricity for cooking at City Park and Audubon Park. Enjoy your meal on the banks of the Mississippi River at The Fly, Crescent Park or Woldenberg Park. If you would rather not cook, stop by a restaurant and pick up anything from barbeque to po-boys, and throw the perfect picnic to commemorate the day. Some good spots to pick up good include Picnic Provisions and Whiskey, Parkway Tavern, Blue Oak BBQ, Central City BBQ and Dat Dog.
Visit a Museum
The National WWII Museum is the perfect stop to celebrate American history. Explore the exhibits, see a show, and learn about the significance of New Orleans in the war. Venture outside the city to a plantation such as Houmas House or Whitney Plantation. Others historic sites to check out include the Louisiana National Guard Museum at Jackson Barracks and Fort Pike.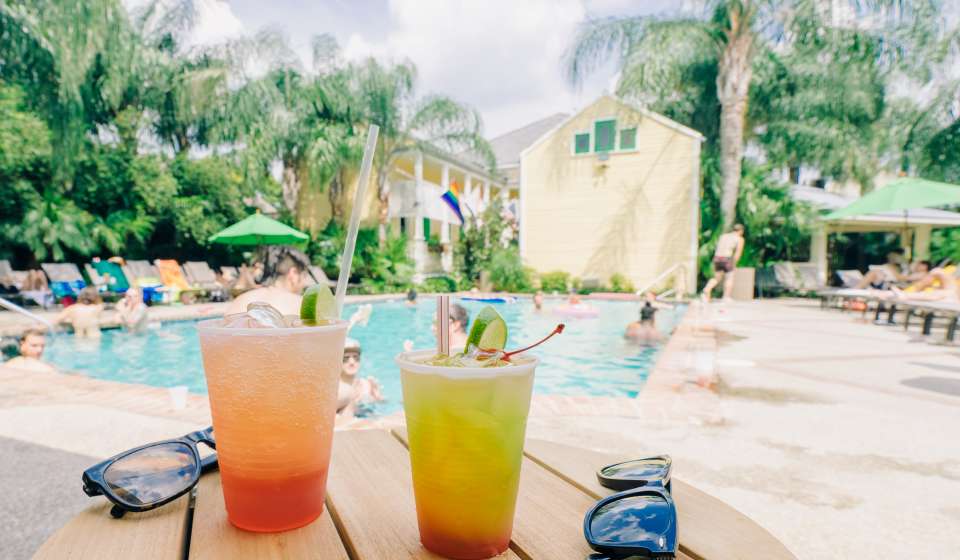 Paul BroussardThe Country Club
Cool Off
Take a dip and soak up some sun swimming with friends. The Country Club offers a day pass for guests to use their pool and cabana. Otherwise, check out our Hotel Pool Roundup to find which spot speaks to you. See our list of Refreshing Summer Cocktails and enjoy a flavorful drink.
July 4th Parties
The holiday's biggest celebration is on the banks of the Mississippi at the annual Go Fourth on the River extravaganza. "Dueling Barges" put on an exciting fireworks show to the tune of patriotic music. There are a lot of different locations to catch the excitement along the river, from Woldenberg Park to Crescent Park or across the river on the West Bank.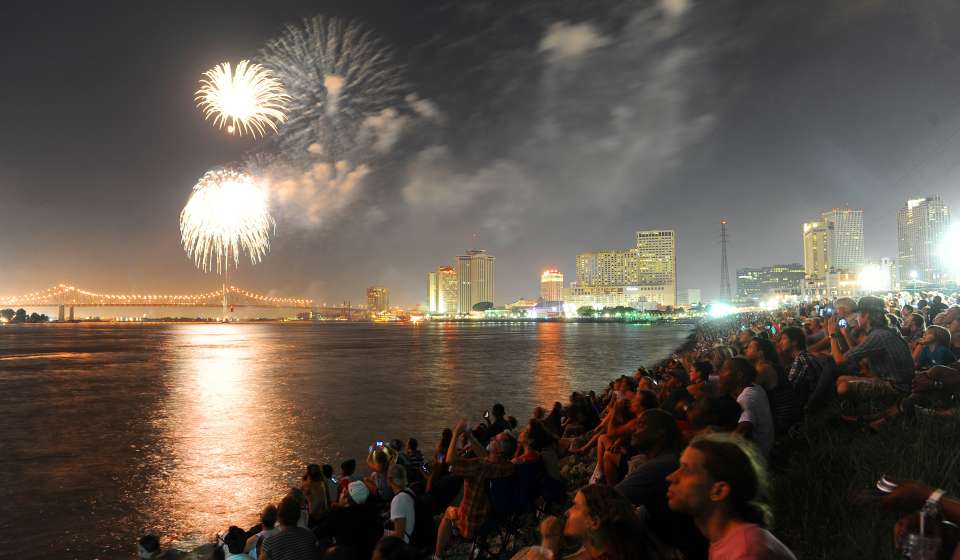 Cheryl GerberGo Fourth on the River Fireworks Show
Steamboats offer fireworks cruises for the evening, so you can get up close and personal with the amazing show. All in all, it's a celebratory time. Mandeville Wharf at Crescent Park has live music starting at 5:30 p.m. leading up to the show. Coolers and chairs are welcome!
Head to the ballpark to celebrate the holiday with the New Orleans Babycakes. The 7:00 game will end with a firework show.
July Fourth Events 07/03/2019 – French Quarter Comedy Show 07/04/2019 – ESSENCE Festival® Presented By Coca-Cola® 07/04/2019 – ESSENCE in the Park 07/04/2019 – Firework Photography Workshop New Orleans 07/04/2019 – Go Fourth on the River 07/04/2019 – New Orleans Baby Cakes vs. San Antonio Missions 07/04/2019 – SneauxBall Festival 07/04/2019 – Stranger Things Binge New Orleans Watch Party & July 4th Fireworks 07/05/2019 – Annual Essence Fashion Shopping ExperienceOriginal article found at https://www.neworleans.com/events/holidays-seasonal/fourth-of-july/
4th of July Weekend Itinerary
This all-American holiday is celebrated with the kind of fanfare that you'd expect from New Orleans.
Fireworks on the Mississippi River during 4th of July celebrations. (Photo: Paul Broussard)
We are very used to having our own local celebrations in New Orleans (Mardi Gras, Jazz Fest, etc.), but we also offer a unique and dynamic twist on national and international celebrations, like St. Patrick's Day and Pride. The most famous of all specifically American celebrations is the 4th of July, and it's celebrated here with the kind of fanfare that you'd expect from New Orleans. And we know, we know — it's kind of weird to have it on a Wednesday this year, but we've got a few ideas to carry you through the holiday and into the weekend. Here's how to spend the 4th of July and the weekend after it in New Orleans.
New Orleans 4th of July Weekend Itinerary
Thursday, July 4
Celebrate the 4th.
Kick off your holiday weekend in New Orleans East with the inaugural Sneauxball Fest. From 9 a.m. to 9 p.m., enjoy food and drink, live music, a car show, a Greek Step Show, and, of course – snowballs! This free festival is a family-friendly way to enjoy the holiday.
Later in the day, head to the French Quarter and post up on the Riverfront for a view of the fireworks at the annual dueling barges, Go 4th on the River. Enjoy the view of the French Quarter while awaiting the fireworks show at 9 p.m.
Friday, July 5
Visit a brewery, or head out on a bar crawl.
Head towards Uptown to check out three of the city's breweries. Start at Courtyard Brewery, which offers a combination of fine beers from around the country, then head up Tchoupitoulas Street to one of the newer additions to this city's beer scene, Urban South Brewery. Make sure you have Holy Roller, a strong IPA that the brewers describe as for "all of us caught between best intentions and bad behavior." The next stop on your New Orleans beer odyssey has to be right up the road at NOLA Brewing Company, where you can match your beer with McClure's BBQ for an early dinner (we recommend a half rack of the St. Louis Cut Pork Ribs). If pubs or dive bars are more your thing, check out our complete guide to the ultimate New Orleans bar crawl here.
Saturday, July 6
Head to ESSENCE Fest.

ESSENCE Fest takes place during Fourth of July weekend from July 4-7, and the evening concerts are a main highlight. On Friday, the lineup includes featured performers Missy Elliott, Ledisi, Morris Day, and more. Saturday's lineup includes H.E.R., Mary J. Blige, Nas, and a special appearance by Michelle Obama. On Sunday, enjoy performances from Big Freedia, Timbaland, Pharrell Williams, and more.
Sunday, July 7
Visit the National WWII Museum.

Celebrate our nation's Independence Day by checking out the National WWII Museum. The museum is a reminder of a moment when a larger cause brought Americans together. Moreover, the museum bears witness to the sacrifices Americans have made for one another in a time of crisis. While you're in the area, check out the restaurants and galleries in the Arts District of downtown New Orleans.
Original article found at https://gonola.com/things-to-do-in-new-orleans/new-orleans-4th-of-july-weekend
Things to do on Fourth of July in New Orleans
If you're looking for a great city to watch fireworks in Friday, then look no farther than New Orleans. Year after year, thousands of locals and visitors gather here to celebration the Fourth of July, and it's a whole lot of fun.
Independence Day in The Big Easy is about more than just fireworks though; it's a whole day of activities.  Here's what we recommend doing Friday:
Take advantage of the discounts
Many of New Oreans' shops and boutiques will have July 4th sales going on, which makes this a great weekend for bargain hunters.  It's also a great time to experience some of the city's biggest attractions at a reduced price.  From July 3 to July 6, you can get $4 off any single ticket (adult or child) to The Aquarium of the Americas or The Audubon Insectarium.  That means if you're a family of four, you'll save $16 by visiting these attractions this weekend!
Go on a river cruise
What better way to see the fireworks on the Mississippi River then cruising on a steamboat on the Mississippi River? The Steamboat Natchez and Creole Queen are both offering cruises Fourth of July afternoon and evening, and the evening cruise includes dinner and live music.
What's even better is that you can get discounts for cruises on both steamboats, which can be viewed and printed out online.
Watch the fireworks
It's already been established that New Orleanians know how to throw a party, so it shouldn't come as a surprise that this city takes its fireworks seriously.  Instead of having one fireworks show, the city has set up "dueling barges" where fireworks are shot from on the Mississippi River at the same time.  It's a show that's unlike any other fireworks show you've ever seen. WWL 870 AM and Magic 101.9 FM broadcast patriotic music synced to the show.  You can also live stream the music from WWL.com if you want to use a mobile device.
Many people like to watch the fireworks from the French Quarter.  If you're one of these people, then we recommend watching from Woldenberg Park (between Governor Nicholls Street Wharf and the Spanish Plaza) since this spot often offers up a great view.  Algiers Point is also a great place to watch the fireworks since you'll see the entire city of New Orleans as the backdrop.  Families often set up blankets, chairs, food and drinks, so it's more of a family atmosphere.
Original article found at http://www.experienceneworleans.com/news/upcoming-events/things-to-do-on-fourth-of-july-in