If you build it, books will come. (And plenty of compliments too!)
Built-in shelves can take your room from boring to bespoke in a snap. Unfortunately, they can also come with a hefty price tag.
But I'm going to share the insider secrets you need to DIY your way to rich results without breaking the bank. (Hint: The secret is starting with assembled bookcases, like the IKEA BILLY!)
Check out this dramatic before and after: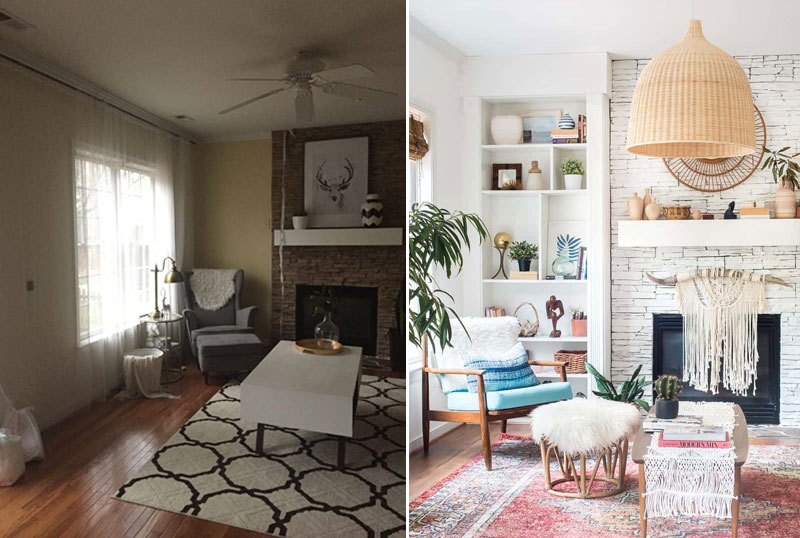 I still walk in sometimes and can't even believe it's the same room. Of course, there have been many other updates and projects to get this look, but the shelves definitely set the stage.
Let's get started!
Materials
Note: Always measure first to get your supplies right. Our measurements were not exactly equal, with a width of 41″ on one side of the fireplace and 43″ on the other. But we compensated with our build-out around it, and it made no difference at all.
Two BILLY bookcases with extension, or similar product
Two 1″ x 12″ x 6′ whitewood boards (for tops)
Two 1″ x 12″ x 10′ whitewood boards (for visible sides next to fireplace)
Two 1″ x 4″ x 12″ common boards (Each cut to length, then screwed into the wall studs flush behind each shelf for support. This compensates for the 1″ difference in the whitewood boards and BILLY bookcase depth)
3″ drywall screws to attach common board to studs
Three 2″ x 4″ x 10′ boards (for hidden sides next to walls and for header frame)
Eight 2″ x 4″ x 11″ pieces (to fill gaps between shelf and whiteboard on fireplace side)
Four  4 1/4″ x 1 1/8″ x 9″ plinth blocks of choice
Four  4 1/4″ x 1 1/8″ x 4 1/4″ plinth blocks of choice
Four 15/32″ x 3 9/16″ x 96″ strips of millwork molding (to cover the left and right edges of each shelf)
Eight 1 1/2″ x 2″ x 1 3/8″ 18-gauge steel brackets and nails
Brad nails (or finish nails)
Tools
Miter saw or skill saw
Brad nailer (recommended)
Drill kit
Tape measure
Let's build!
Mark your studs, and screw the cut 1″ x 4″ common board to the wall and into the studs with the drywall screws, spaced every 6-12″. Space the strips a few feet apart from top to bottom to get the best support.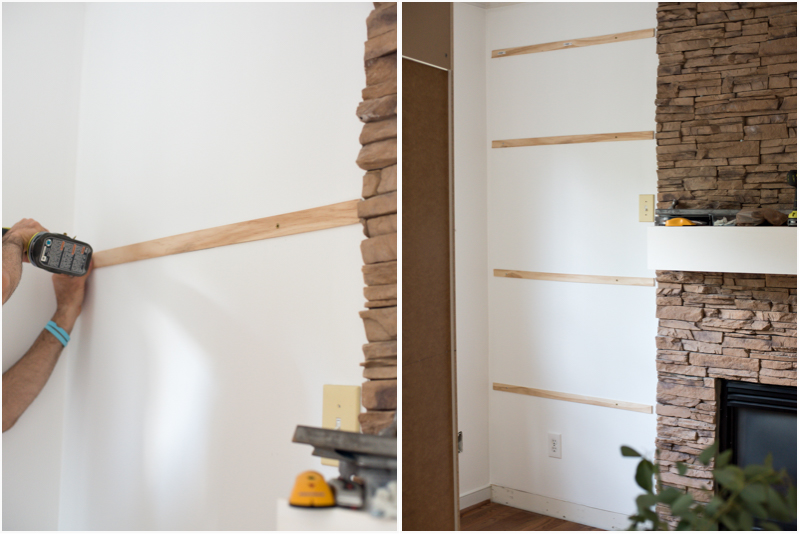 Cut out the crown molding, shoe molding and baseboard if needed.
Press the bookcases flush to the strips on the walls, center them and attach the steel brackets to the bookcases and the strips screwed to the walls.
Measure (ceiling to floor) the wall side where you want the outer edge of your shelf.
Cut the 2″ x 4″ to length and attach to the wall.
Measure (ceiling to floor) the fireplace side where you want the edge of your shelf.
Cut the 1″ x 12″ whiteboard to length and attach using 2″ x 4″ blocks to hold the gap.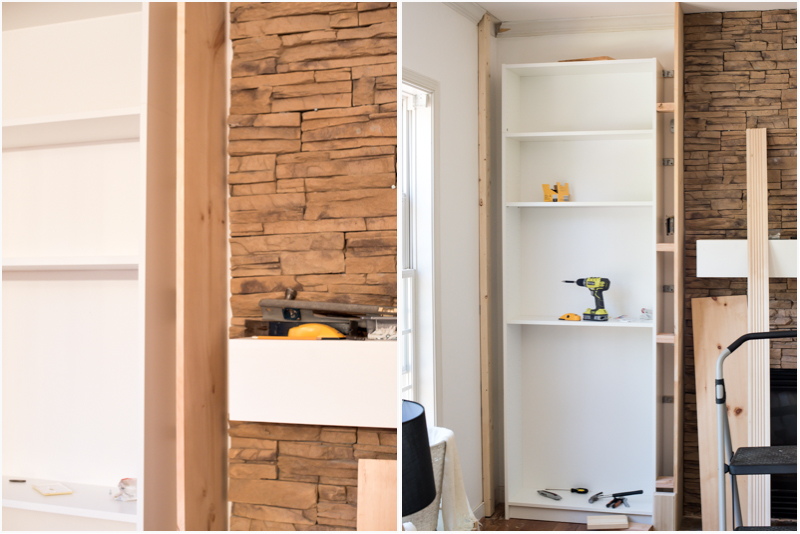 Measure from the inside of the 2″ x 4″ to the inside of the 1″ x 12″ across the top of the bookcase. Cut another 2″ x 4″ to fit the space, and screw it in on each side.
Measure and cut the 1″ x 12″ whiteboard designated for the top. Brad nail across the front first and then the side.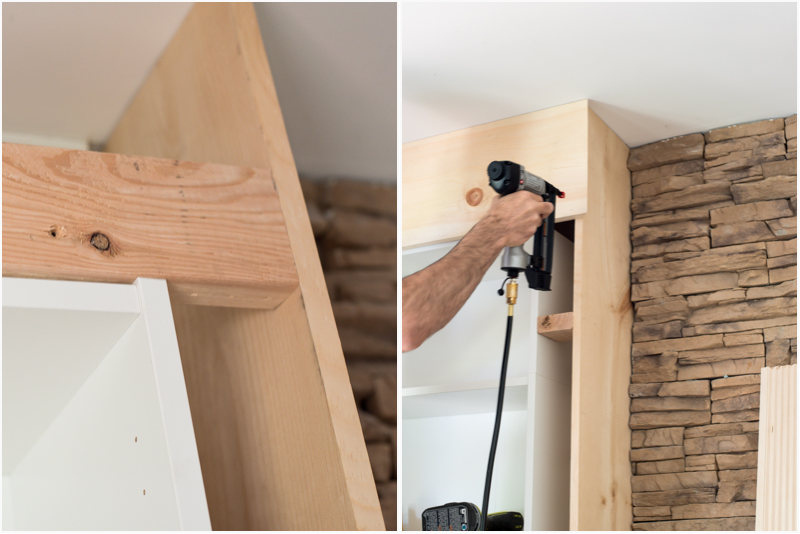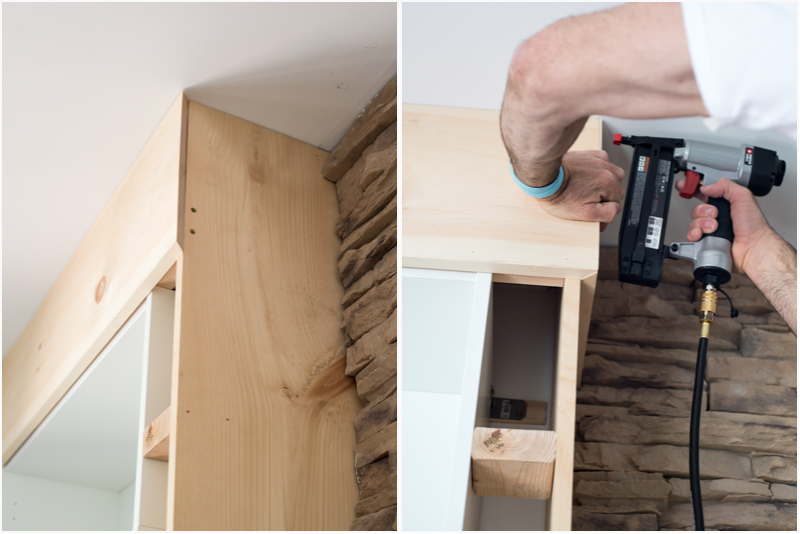 Now place and brad nail the plinth blocks.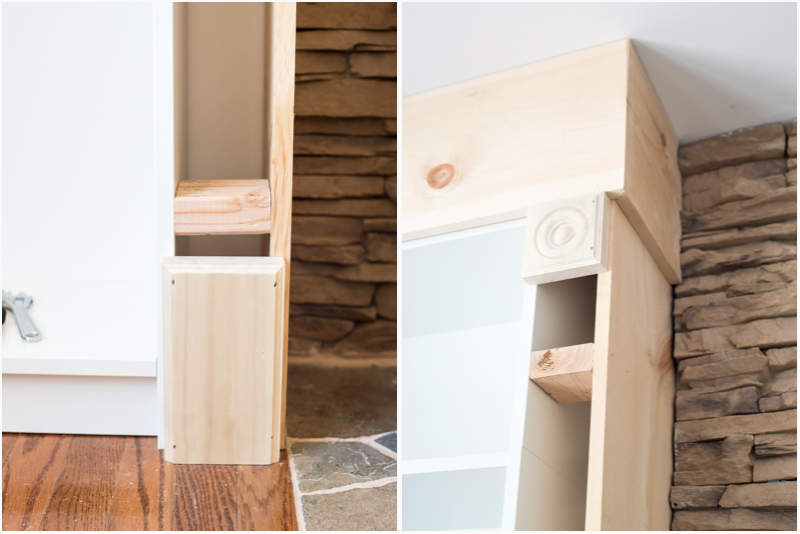 Next, measure and cut the millwork to length, and brad nail that into place.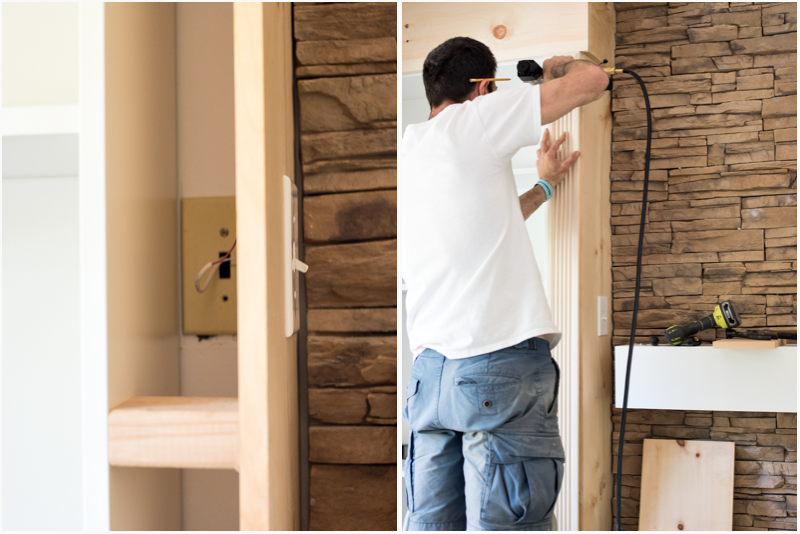 Arrange shelves as desired. I cut a few in half to make the vertical breaks and used another 1″ x 12″ to fill the remaining longer gaps to my liking.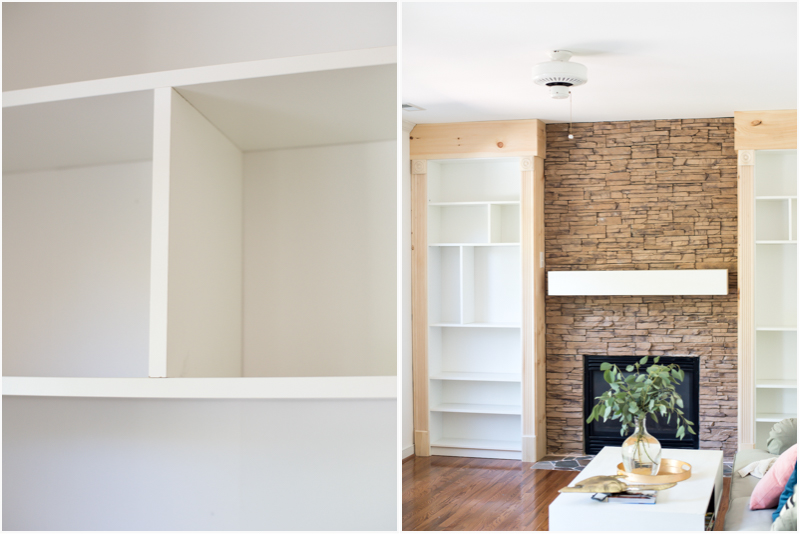 Paint, stain and decorate as desired. Here's our finished product!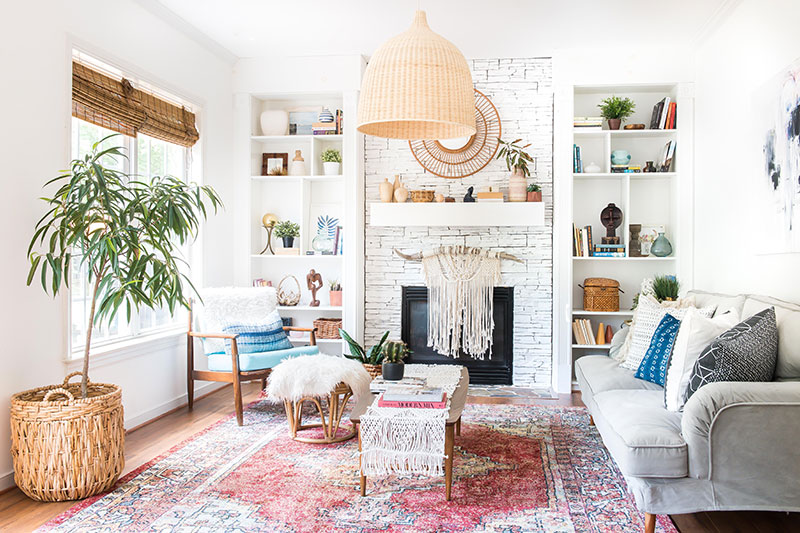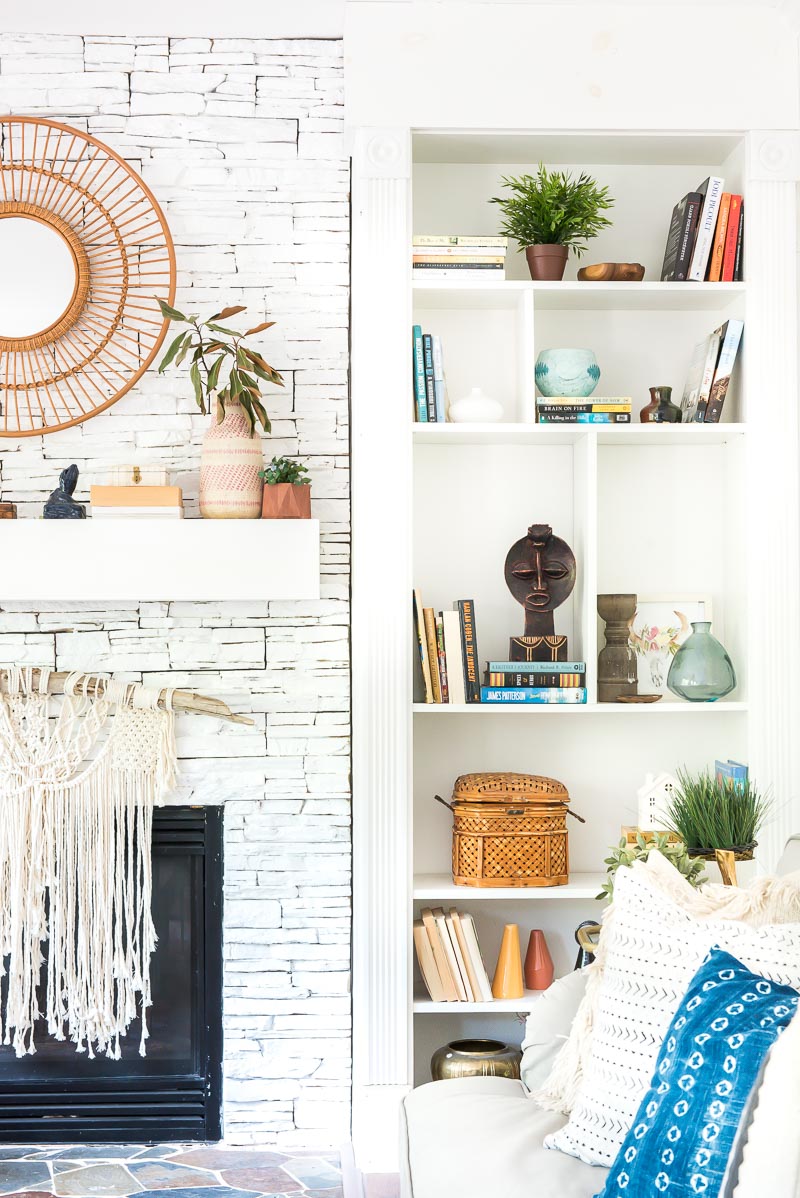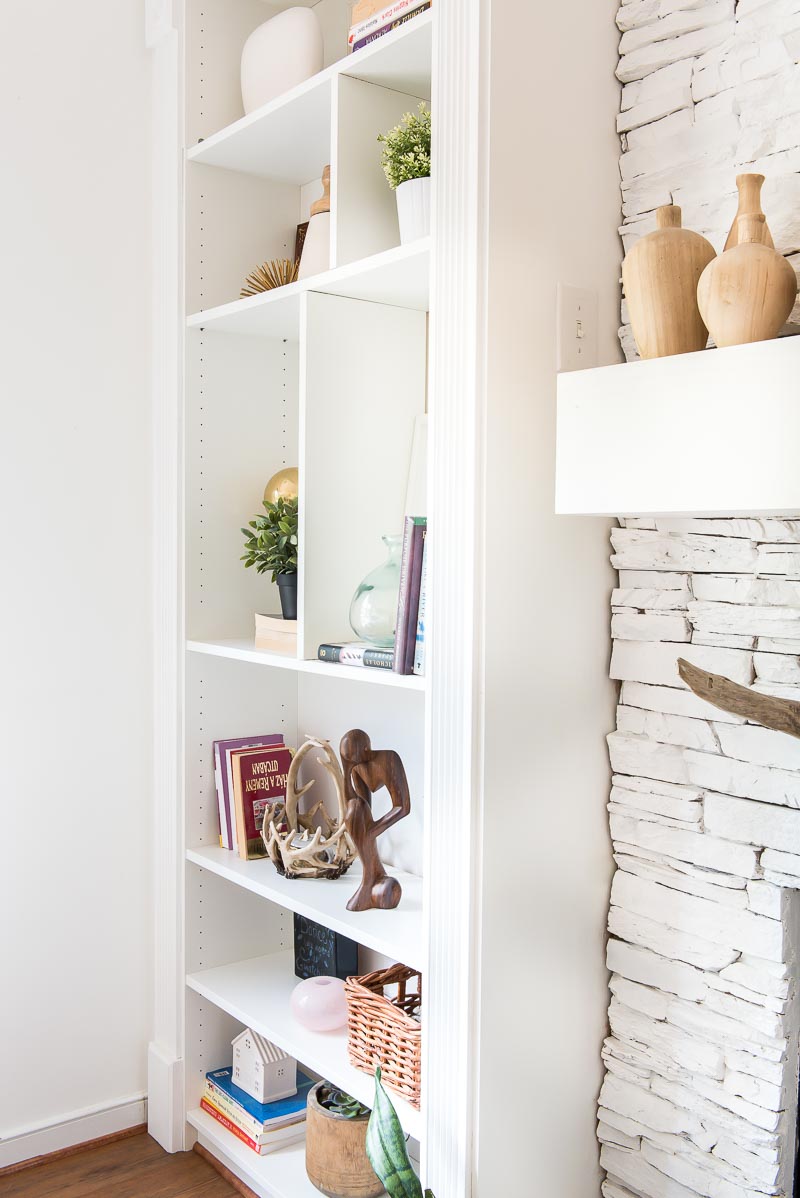 Now it's time to invite your friends over to enjoy your upgraded space and spoil you with compliments on the fruits of your labor … manual labor, but it was worth it, right?!
These are pretty much guaranteed to be a clutch selling feature if you do decide to put your house on the market. In the meantime, I hope you love your new custom built-in bookcases as much as I love mine!
Original article found at: https://www.zillow.com/blog/built-in-shelves-hack-226769/